Laser & Aesthetic Sales Directory
Lumenis Lightsheer desire
£23,950 (+VAT)
Laser and aesthetics have for sale a 2016 Lumenis Lightsheer desire diode laser
The laser comes with 2 handpieces:
HS handpiece with only 13300 shots
ET with only 76746 shots 
Package will include 
6 months warranty
Delivery and installation
One days training 
Trolly
For more information or to potentially view the laser contact us here at laser and aesthetics 
ADVANCED TECHNOLOGIES within the Lumenis Lightsheer desire
ChillTip technology - This is a Sapphire cooling tip that provides cooling direct to the skin when the handpiece is touching the skin. This cooling provides skin protection  and makes the treatments comfortable.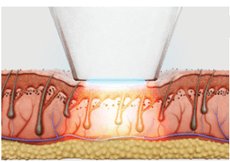 Advantages Of ChillTip
Safety 
Patient comfort 
Efficacy
Vacuum Assisted High-Speed Integrated Technology - This method provides a suction of skin to the handpiece. The energy is applied to the the target chromophore where the melanocytes are spread apart and blood flow is restricted. The target skin is then released.

Advantages Of Vacuum Assisted Technology
Efficacy 
Safety 
Less pain  
UNIQUE ATTRIBUTES OF THE LUMENIS LIGHTSHEER DESIRE
Versatile 805nm diode laser
2 hand pieces for treatments of large and small areas
Cool tip
Vacuum technology 
ADVANCED GRAPHICAL USER INTERFACE
 Presets for fast treating and a fast learning curve.
APPLICATIONS 
Hair removal and the treatment for Pseudofolliculitis Barbae (PFB).
Treatment of vascular lesions
Treatment of benign pigmented lesions
LUMENIS DESIRE HS HANDPIECE
This handpiece has a 22 x 35mm spot size. This enables the user to use low-fluence for treatments and a unique pain reduction mechanism for fast and comfortable treatments.
LUMENIS DESIRE ET HANDPIECE
This handpiece has a 9 x 9mm spot size as well as a sapphire chilltip. This is designed to treat smaller areas requiring higher fluence and due to the additional cooling is still comfortable to the client.
Trolley 
Platform
LightSheer DESIRE
HandPiece
HS
XC
ET
Technical Specifications:
Laser Type
AIGaAs Diode Arrays
AIGaAs Diode Arrays
AIGaAs Diode Arrays
Wavelength
805 nm (nominal)
805 nm (nominal)
805 nm (nominal)
Spot Size
22 mm X 35 mm
12 mm X 15 mm
9 mm X 9 mm
Repetition Rate
Up to 3 Hz
Up to 3 Hz
Up to 3 Hz
Pulse repetition
1-3 Pulse
1 Pulse
1 Pulse
Fluence
4.5-12 J/cm2
10-40 J/cm2
10-100 J/cm2
Pulse Width(OptiPulse)
30-400ms
5-400 ms
5-400 ms
Peak Power
2310 W
1920 W
1620 W
Comfort Management
Vacuum assist (up to 18 in Hg)
Chilltip contact cooling (5°C)
Preset Parameters
Yes
Yes
Platform Specifications :
Electrical
100-240 VAC +/- 10% , 12 A max. | 50/60 Hz. | Single-phase grounded outlet
Weight
32 kg(70.5 lbs.)
Dimensions (WxDxH)
51 x 60 x 42 cm; (20.1 x 23.6 x 16.55 in)
More Pictures of the system